TERMINALFOUR: 8.2.18.2
Date Released:

September 6 2019
General
Why upgrade?
Chrome 76 introduced an issue with the Actions Menu
Chrome 76 (76.0.3809.132 to be precise) is the first version of Chrome to use a new layout engine, LayoutNG, which will be rolled out in stages over upcoming releases. Changes in this release affected block and inline elements and that introduced an unexpected (and unwanted) behavior in the Actions Menu for the Site Structure and Media Library: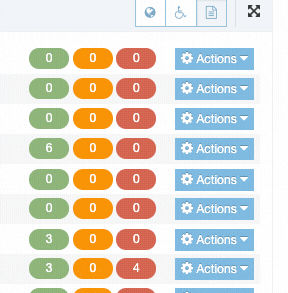 This issue affects all versions of TERMINALFOUR. We issued patches for v8.2 and v8.3 (8.2.18.2 and 8.3.1.2 respectively) as soon as we became aware of the issue so please contact Client Support to arrange an upgrade.
Before upgrading
In advance of the upgrade please view the information and Technical Roadmap. Please contact us prior to upgrading we can provide you with the pre and post-upgrade tasks.
Priority
Please note that the priorities assigned to bugs differ from those assigned to Client Support tickets:
P1 - Major rework of product.
P2 - Major performance change.
P3 - Regular priority change.
P4 - Minor change.
Trivial - Very minor UI changes.
Changes
Bugs
| Component | Summary | Priority | Key |
| --- | --- | --- | --- |
| Hierarchy | Site Structure and Media Library action buttons jump down when clicked in latest version of Chrome | P3 | RDSM-31191 |