Social posts
Last Modified:

05 Dec 2018

User Level:
Description
21 Sep 2018 – Owing to API updates by Facebook, LinkedIn and Twitter, this functionality is currently not working.
Documentation will be updated when there is a resolution.

Social poster lets you to post short messages from content to:
Facebook®
LinkedIn®
Twitter®
Posts usually contain a short description and a link to the page containing the content. This page lists all of the posts made to Social poster.
To view the list of social messages to be published on Facebook, Twitter, or LinkedIn, go to Engage > Push to Social. This opens the page shown below: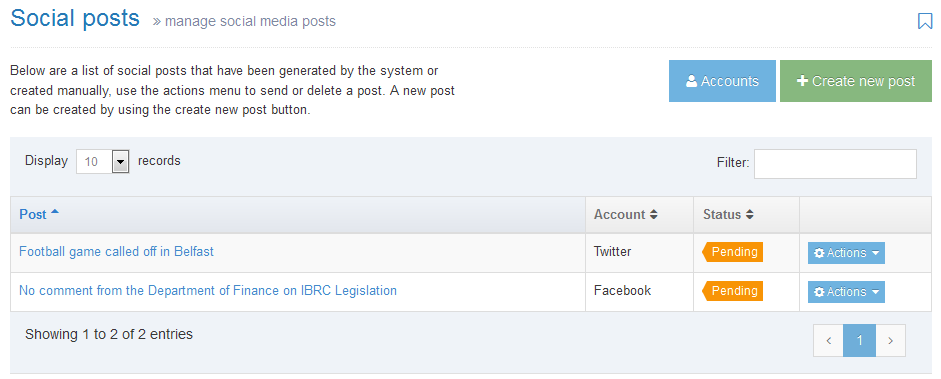 In the upper right corner is the Create New Post button (green). This allows you to manually create a post to one of the social media accounts. There is also an Accounts button (blue), which allows you to configure the social media accounts.
Posts are displayed in descending order with the most recent posts appearing at the top of the list. Posts will remain on this list for the time period specified in the Remove sent posts in the social poster configuration.
Actions
In the column with Actions buttons, you can use the drop-down list to choose actions to take with the Post in the row.
If you click

View details

, this opens a window with more information about the post.
If you click

Post

, this will send the post to the selected social media account. Alternatively, this can be configured to be sent automatically in the social poster configuration.
You can

Delete

a post. If you choose to delete a post, you are challenged with a confirmation box. Confirm your selection to Cancel or Delete.‌