Content type usage
Last Modified:

30 May 2019

User Level:
Description
The Content Type Usage Report lets you see the Content Types that are in use and where they are being used. This can be important to know if you need to change or delete a Content Type, as it may already be in use, and potentially in more than one place.
To use the Content Type Usage report, go to Assets > Asset usage > Content type usage.
Search tools
The report can be run on a specific Content Type or Section / Branch.
ITEM
DESCRIPTION
Search by: Content type
Content type
Select a specific Content Type and see where it is being used
Search by: Section
Section
Select a specific Section using the Section selector
Number of levels to recurse

Sets how deep through the site structure this report will run

No recursion: only the selected Section
1 level: selected Section and children
2 levels
3 levels
etc
Recurse through all levels: selected section and all sections below
Click Run report to display the search results.
Search results
Results matching the search will be displayed. For each item, the following will be displayed. Results can be sorted and filtered.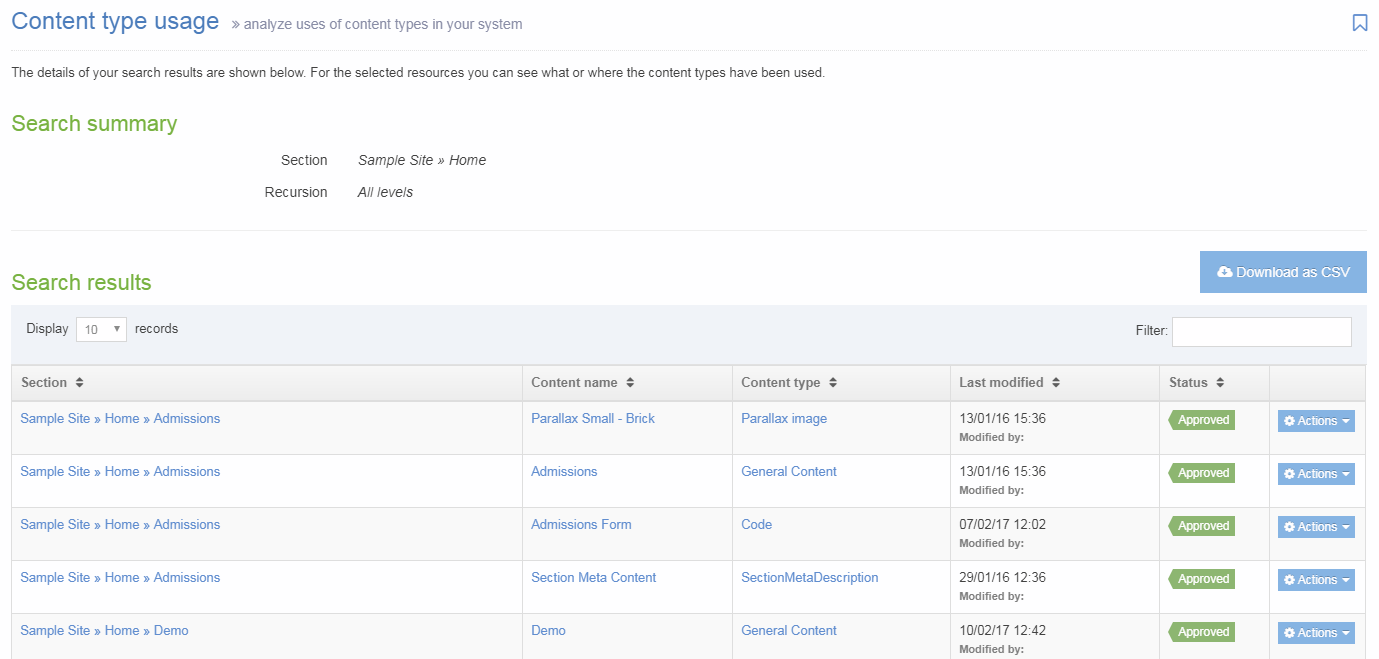 Item
Description
Section
The full path to the Section. Click to edit the section.
Content name
Name of the Content Item. Click to edit.
Content type
Name of the Content Type. Click to edit.
Last modified
Date/time of the last modification and the username of the user.
Status
Approved, Pending or Inactive.
Actions

The Actions menu allows you to:

Edit Section
Edit Content Item
Edit Content Type
Preview Section
Download as CSV
Click Download as CSV to download the results in a CSV file that can be opened in Excel.