Lists
Last Modified:

20 Jun 2018

User Level:
Description
A List is a collection of items with a meaningful grouping or sequence. When used as part of a Content Type, a List allows a user to select one or more of the items within it as an option. For example, if news articles on your site are categorized as "Sport", "Weather" and "Current Affairs", you would create a List with these three categories and add it to a "News Article" Content Type. When a news article is created, the user selects one (or more) of the categories.
Lists can also be used with selective output to apply a class to display or hide an HTML element such as a disclaimer.
When Are Lists Used?
We use Lists when we want to restrict the content items that can be input in a Content Type. In the example above, instead of leaving it to the user to input (and possibly misspell) text for a news category, the options are pre-defined for the user. List items can be added as needed by a user with the access rights to edit that List.
How Are Lists Used?
When a List has been created and populated it is added to a Content Type. There are six Content Elements types that can be used with Lists: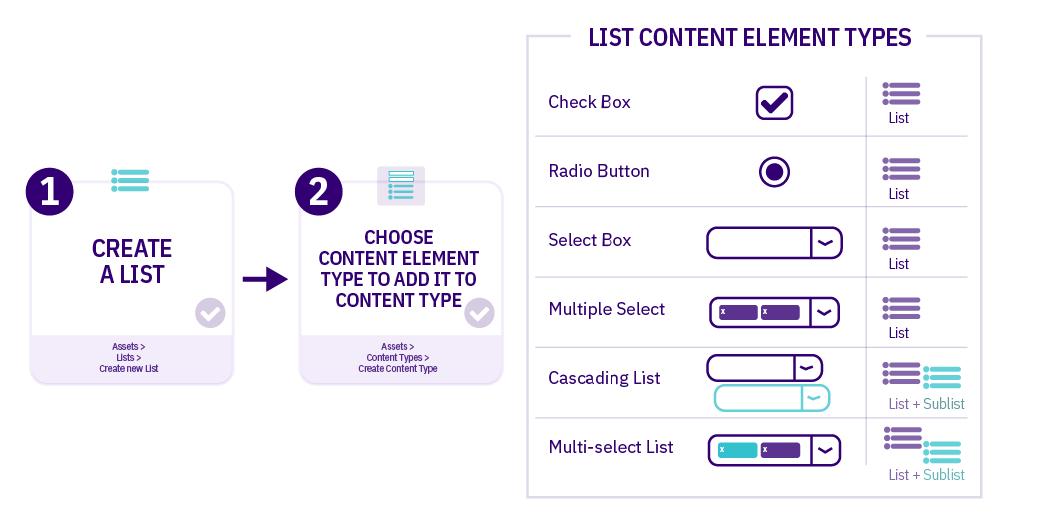 | Item | Description |
| --- | --- |
| Check Box | Multiple items can be selected |
| Radio Button | One item can be selected |
| Select Box | One item can be selected from a dropdown list (good for long lists) |
| Multiple Select | Multiple items can be selected from a dropdown list |
| Cascading List | One item can be selected from a dropdown list; for items that have a related Sublist, a second drop-down menu will appear below it listing items from that Sublist |
| Multi-select List | Items can be selected from both the List and the Sublist |
Who Can Create a List?
Administrators can create Lists which are accessible Globally or within a Group. Power Users can create Lists within their Group(s).
Power Users cannot create or modify Global Lists. They can only use Global Lists, or Lists in Groups to which they belong when creating Content Types.
List Listing Page
To work with Lists, go to Assets > Lists. All List names and descriptions that the user has rights to edit and/or view (i.e., Global Lists, and Lists that have been shared with the Power User's Group(s) as read-only) are listed in the table with the Asset ID and the Group that the List belongs to. If you have a lot of Lists, use the Filter box to filter by List name, description, ID or Group.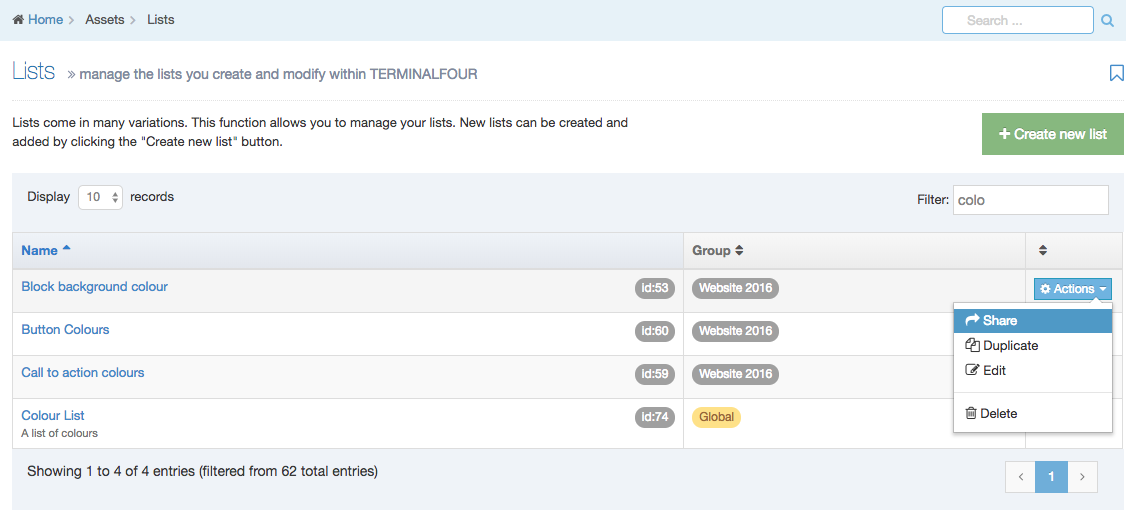 The columns in the table are Name, Group(s) and the Actions button:
| Item | Description |
| --- | --- |
| Name | Contains List name, a brief description (if one has been provided), and the List ID number. The arrow in the header row can re-order the list alphabetically. |
| Group | Shows the Group(s) the List belongs to. If the List is shared with one other Group or more, you'll see a + and the number of Groups it's shared with. To see a list of those shared Groups hover over the + symbol. |
| Action Menu Button | Provides options to Share, Duplicate, Edit, and Delete. The Share function is not present where the Group designator is "Global," however, you can move a global List to a Group by Editing the List and selecting a Primary Group. |
Create New List
When you select Create New List the List Information screen is displayed:
Item
Description
Name
This is a mandatory entry. Give your List a name - it is recommended to make the name as descriptive as possible.
Description
This is an optional entry. This is used by the filter on the Lists listing and can be useful for finding Lists.
Localization

For multi-language sites, if the List is available in more than one language, you can use the localization options to:

Use current language version of this List: prevent translations of the List
Only use this list when localized versions are not available: when no translation of the List exists, this List is used

Primary group

Select a Primary Group for this list. Grouping and sharing Lists restricts the users that can use or edit the List.

It is good practice to add all your assets to Groups. This makes it easier to identify which assets are being used and where. By grouping assets together, you can also restrict access to them. When a user is not part of the Group, they cannot see or access assets in that Group.

Shared groups

This table has three columns. Click on Add row, to share with a group:

Group:

this column displays the shared groups selected by you. A drop-down list of groups appears, and from there you choose the appropriate group for sharing this List.

Access

: this column displays the access permission for the shared group.

The Remove button removes the List from the group.
List items
List items are populated towards at the bottom of the screen.
Each row contains:
Item
Description
Name
The name is used as the label when you are creating or editing content
Value
This is what will be published on the site. For example, the List Item Names could be abbreviations used internally within an organization and will be used when creating content, while the Values would be more widely understood equivalents that are published on the site
Selected
When checked, this item will be the default selected item in the Content Type Element. More than one item can be selected, though Content Type Elements which only permit the selection of one item, like Radio Buttons, will only pre-select the first item selected in the List
Sublist
List items may have sub-categories that you want to link them to. Sublists are used with Cascading and Multi-select Content Type Elements
Remove

Select Remove to remove a List

Remove does not delete the List until you click Save changes. If you navigate away from this page before you click Save changes, the List will still be present.
In this example, the List comprises News Categories - "Weather", "Current Affairs" and "Sport". Since "Weather" is the most common news story category, it is selected by default:

"Sport" has a related Sublist that features different kinds of sport:
Using a List in a Content Type
In a new or existing Content Type, go to the Elements tab and select Add Element. Give the Element a name and set the Type to one of the Element Types that are used with Lists. In this example, Radio Button is selected. A drop-down menu will appear below from which you can select the List: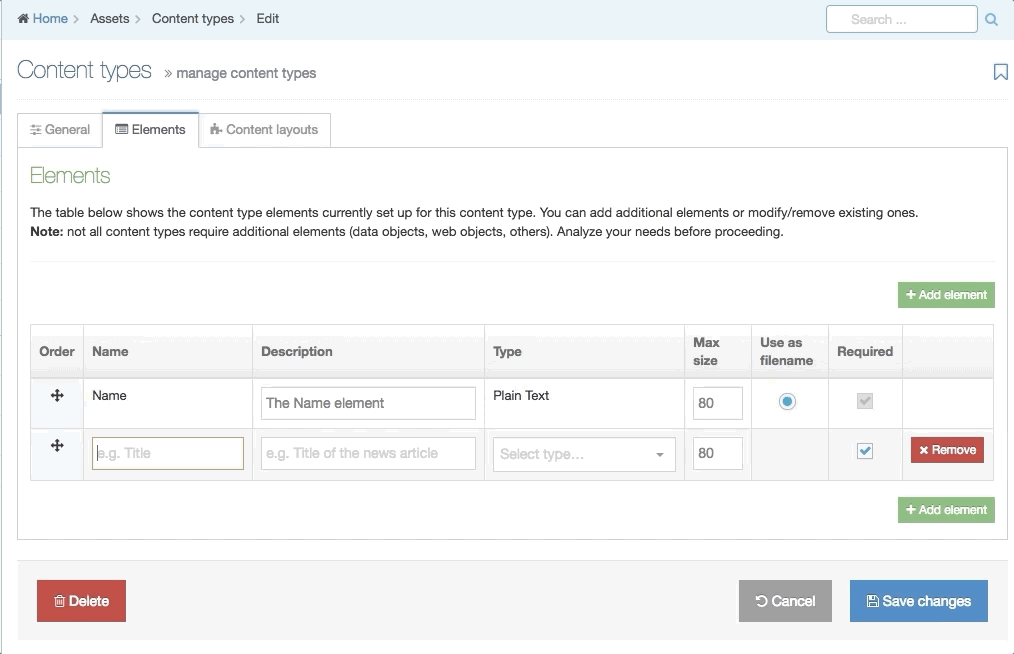 This example shows how the different List Content Elements behave in a Content Type. Since "Sport" has a Sublist, items from that Sublist can be selected in the Cascading and Multi-select List: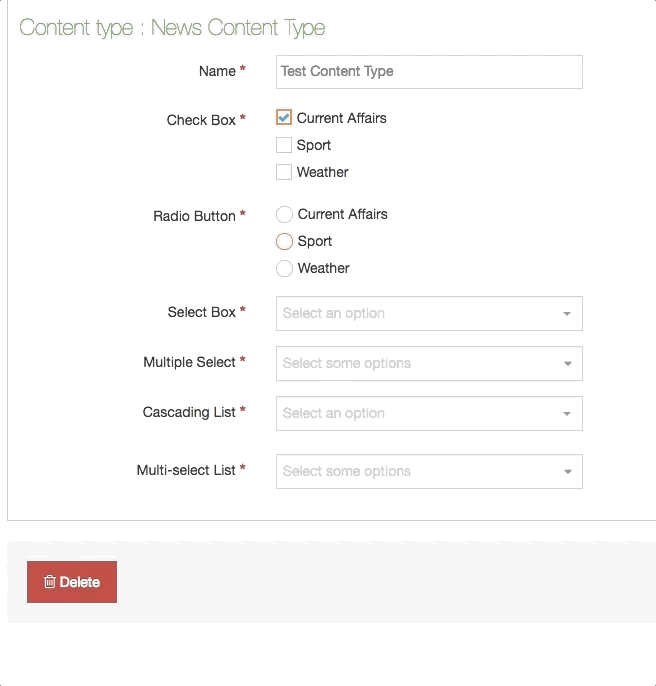 Share a List
Global Lists can be used by any Power User when creating a Content Type but can only be edited by Administrators. Power Users and Administrators can create Lists within groups or share Lists with other groups. The List can either be shared with Read-only or Full access:
Read-only access: Power Users within the group can view the List but cannot edit it
Full access: Power Users within the group can view and edit the List
Regardless of how the List is shared, all Power Users within the group can use the List within a Content Type.
A Global List cannot be shared with Groups; however, you can move a global List to a Group by Editing the List and selecting a Primary Group.
Duplicate a List
You can duplicate a List. Do this either into a new Group or the same Group or with other Groups. A duplicate List creates a copy of the original and the two Lists are not linked to each other.
Changes made to one List do not affect duplicated versions. Sharing and Duplication are two different functions.
Delete a List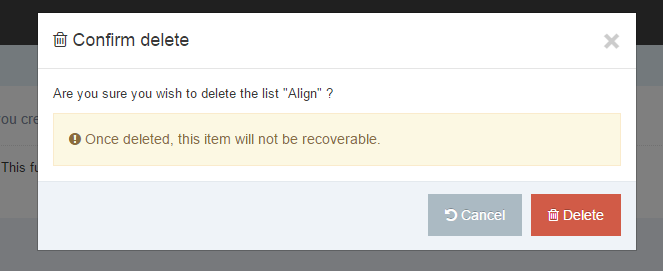 In the row of the corresponding List, open the Actions drop-down list and select Delete.
A confirmation pop-up window appears and you can confirm your choice and Delete, or Cancel the action. Upon successful deletion, a green banner appears confirming the deletion, and the List is removed from the list.
When a List is deleted you cannot recover the data.