Packages
Last Modified:

22 May 2019

User Level:
Description
What is a Package?
With Packages, you can batch import and export content and assets to and from TERMINALFOUR. Using Packages you can move assets between TERMINALFOUR instances or batch upload media items.
The following assets can be used with Packages:
Content

Media

Sections and Channels

Content Types

Page Layouts

Navigation Objects

Lists
Assets are exported individually or in groups and dependencies are resolved.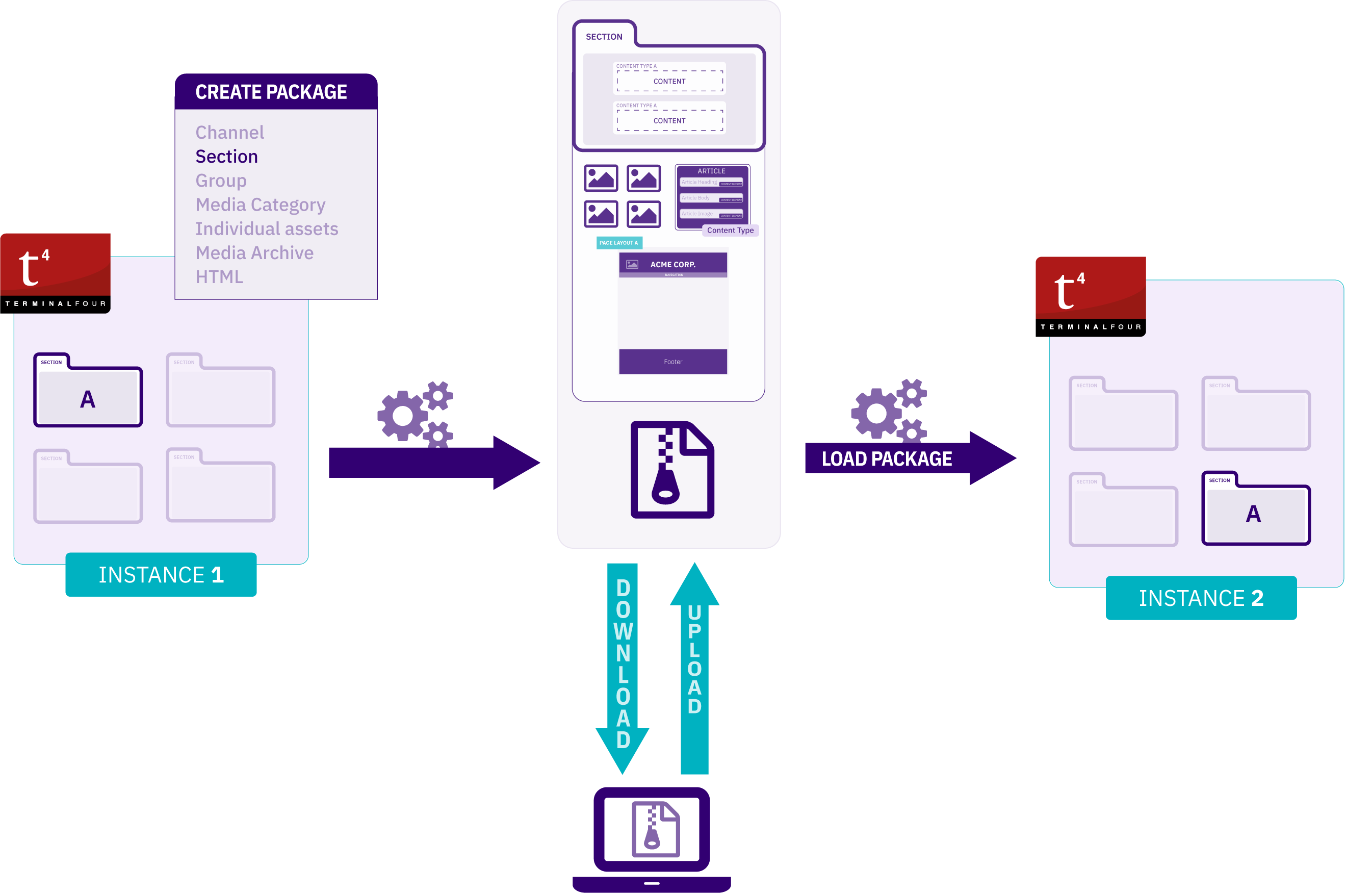 Key features
The Packages functionality does not require server access so you can create, delete, rename, duplicate and download Packages from the TERMINALFOUR interface. Packages can be uploaded directly from your local PC or transferred from an external website by entering a URL
Progress is reported for import and export tasks that take over one minute
Packages can be easily rolled back following an import removing all changes made by the import.
Package contents and error reports and warnings are viewable. You can enable full debug logging, this feature uses system's logging configuration. You can enable this feature for Packages alone, or for the entire system instance.
Packages include dependencies

e.g., content in TERMINALFOUR uses a Content Type and the Content Type includes Content Layouts. When a Package is created, all of these system dependencies are resolved and included in the Package.
Who Can Use Packages?
The minimum user level for all Packages other than Media Archive Packages is Administrator. The minimum user level for Media Archive Packages can be configured in Role Customization.
There's more than one way to integrate external data in TERMINALFOUR and the method you choose can depend on the type of data and what you want to do with it.

How to use Packages
To access this feature, go to Content > Content Migration > Packages: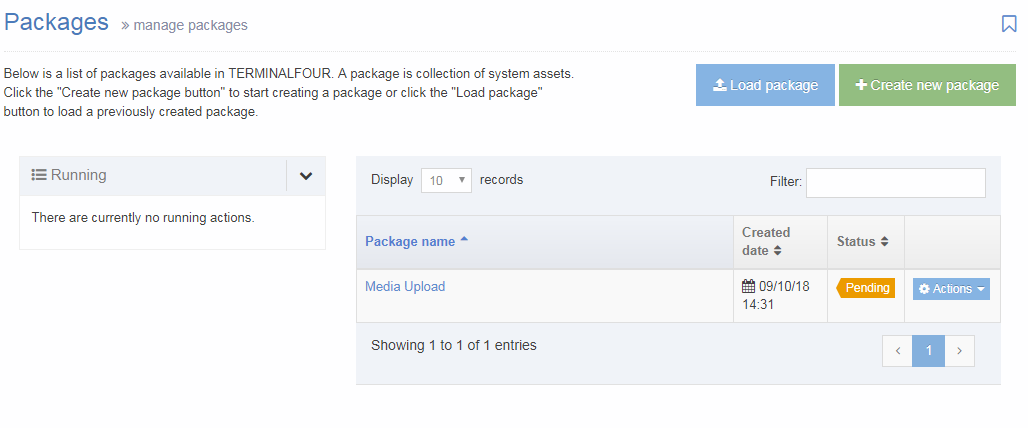 On this page you can:
You can sort by Name, Created Date, Status (see below)
Use the Action Menu button to Edit a Package, Import (if the Package status is 'Pending'), Rollback (if Package status is 'Imported'), View, Download or Delete.
View active Package exports and imports
The status of each Package can be:
| | |
| --- | --- |
| | The package exists in the system and has already been imported, it can be edited, viewed, deleted, downloaded or rolled back. |
| | The package exists in the system and is available to be imported, it can be edited, viewed, deleted, downloaded or imported. |
| | The package has an error, there was an error creating the package, it can be viewed (to see the error), deleted, downloaded but not imported. |
Create New Package
To create a new Package, select Create new Package and select the type of Package you need:
To continue, select Next.
Load Package
Select the Load Package button.
A Package created in another instance of TERMINALFOUR can be uploaded directly from your local PC or downloaded from a remote server by providing a link to the Package.
Upload from my local computer
To upload a Package select Upload from my local computer and drag the Package zip file to the file upload box. When the file uploads to the server it is visible in the Packages list and has a status of 'Pending'.

To add the Package, click Load Package. The Package is then included in the Package listing on the main Packages page.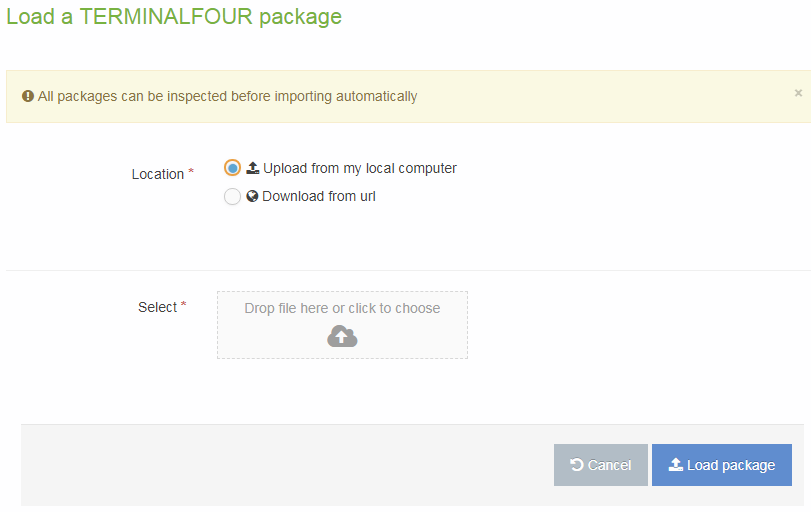 Download from a remote URL
To avoid uploading and downloading large files through your web browser, you can download a Package directly into TERMINALFOUR from an external server.

Before you load a Package check if there are any firewalls or other security measures that might prevent TERMINALFOUR from accessing the external location. In some instances, although you may be able to access the Package from your browser, the TERMINALFOUR server can have different security policies.


Enter the URL of the Package and click Load Package.
Import
Once a Package has been created, it has a status of 'Pending' and can then be imported. To import a Package, select Import from the Actions Menu. Depending on the type of Package you are importing, different options will be selected:
Channel Package
Section Package
Group Package
Individual asset Package
Rollback
After a Package has been imported, it is possible to Rollback the Package to removes any Package assets that have been added as part of the import and set the status of the Package back to 'Pending'. A Package can be rolled back from the Package list by choosing Rollback on the Actions Menu.
Performing this action does not delete the Package. A rolled back Package appears in the Package listing screen as 'Pending'.
View a Package
To see a list of Package contents and a report of any errors or warnings generated on Package creation, select View from the Actions Menu for the Package.
Download a Package
Once a Package has been created, it can be downloaded so you can transfer assets from one instance of TERMINALFOUR to another.
To download a Package, select Download from the Actions Menu for the Package.
Delete a Package
When it is necessary to Delete a Package, go to the Packages start page and select the Delete option on the Actions Menu for the item to be deleted.