Media Categories
Last Modified:

30 Jan 2020

User Level:
Description
Categories help keep your media organized with a labeled folder structure. When you add a new item to the Media Library you can choose to add it to a new or existing Category folder. Categories are arranged in a hierarchical folder structure so you can place Child Categories inside parent Category folders. It's worth taking time to plan the Categories and Child Category organization that would work best for your organization.
Categories can be used to manage access to create/edit media (write access) and use media (read access). Categories are also used as the folder names for images and documents when they are published (if this has been enabled under Generate Media in Preview & Publish Settings)
Create Category
To create a Category, click Create Subcategory on the Actions menu and the General tab opens. Give the Category a name and click Save changes. Additional options are available when editing a category.
Edit Category
To edit a Category, select Edit Category in the Actions menu (this option only appears if you have been granted Write access to the category). When you click Edit Category the screen below is displayed.
This gives you access to the following tabs:
If necessary, you can Delete a Category/Subcategory from any of the tabs. At the bottom of each page is a red Delete button. Click and a confirmation popup box appears, click Confirm and the Category is deleted.
General Tab

In the General tab, you can edit the Category Name and select a Workflow for the Category. If no Workflow is specified, choose Auto Approve.
TERMINALFOUR recommends the use of Auto Approve. Applying a Workflow to Media can delay the publication of content that uses unapproved Media.
Edit Rights Tab
Write Access settings define the users or groups that can upload or edit media within the system to this Category or its Child Categories. Any users of groups added here automatically have "Read access" to this Category and any Child Categories.

Read access settings - Read access settings define the users or groups that can use media in this category or any sub-categories.
If this is not configured for a category, ALL users have read access to that category.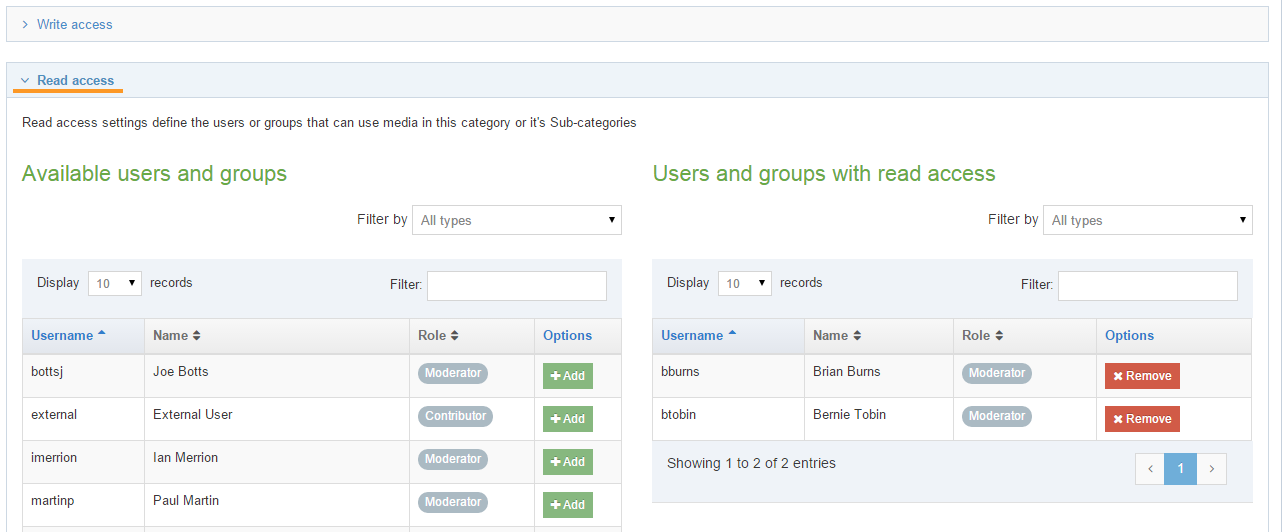 Access tab
Access control is used to restrict access to Published assets. If enabled, the options available will depend on the Access Control Content Type and Access Control that has been configured.
Do not confuse Published assets with the Read and Write access presented above.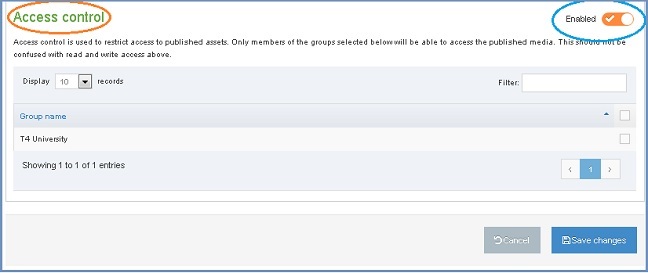 Subcategories
The Subcategories tab allows the user to create a new Subcategory, re-order Subcategories and to automatically order the Subcategories.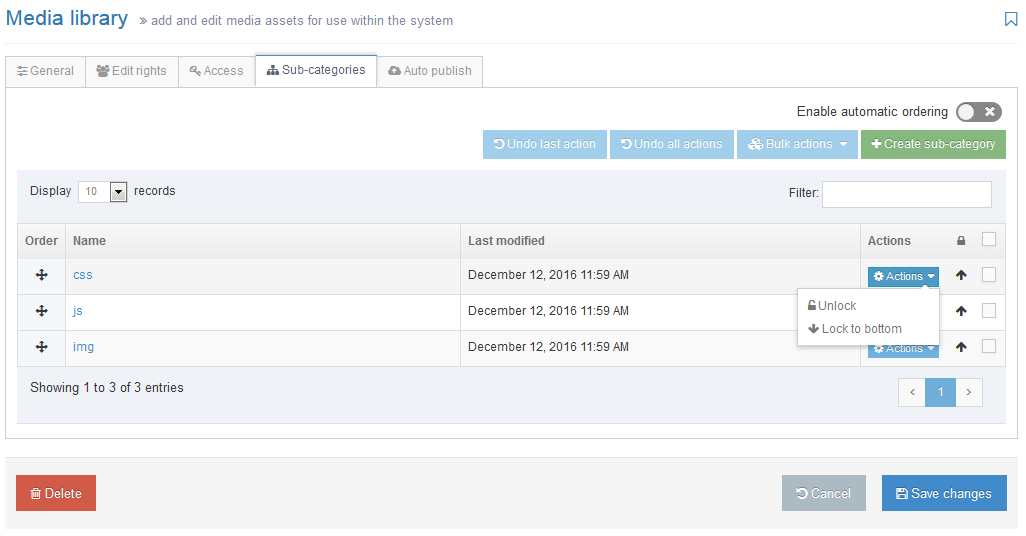 To create a new Subcategory, click Create Subcategory. The General tab opens, complete the entries, and click Save changes.
To automatically order the media Categories, select to Enable automatic ordering and select whether to order alphabetically or by last modified. It is then possible to lock specific sub-categories to the top or the bottom of the list.
Move Category
To Move a Category, drag and drop it in the Category view of the Media Library.
To re-order Categories, Edit the parent Category and select the Subcategories tab.
Delete category
You can delete from any tab, or from the Actions menu, select Delete. A "Confirm delete" popup window appears for you to confirm the request:

To proceed, click Delete. The media category is removed from the Site Structure.
Once a Media Category is deleted, it is no longer visible in the Media Library, but it is in the Recycle Bin. Media within deleted Categories is removed from the published content.