Media Category Packages
Last Modified:

16 Jan 2019

User Level:
Description
A Media Category Package is a type of Package that is used to export a Media Category, including Subcategories, and all Media Items from the Media Library. These can then be imported into a separate area of the same Media Library, or into the Media Library in a different TERMINALFOUR instance.
For bulk upload of Media into the Media Library, use a Media Archive Package.
Who can use Media Category Packages?
The minimum user level for Media Category Packages is an Administrator.
Create a Media Category Package
To create a Media Category Package, go to Content > Content Migration > Packages and select Create new package.
Select the Type of Media Category and click Next.
Enter the following details:
| Item | Description |
| --- | --- |
| Name | Give the Package a name. This is displayed in the listing on the main Packages page. |
| Description | Give the Package an optional description. This will help you identify it later. |
| Language | Select the Languages of Media to export, or check the All Languages option to export all languages. |
| Media Category | Select the Category to export. |
Select Next and wait for the Package to resolve.
Once the Package is resolved, the Package information is displayed, showing all assets that would be exported with the Package. The Report, at the end of the page, details any warnings or errors generated when the Package was created.
Select Next and then click Finish.

The Package has been created and is listed as "Pending", and is now ready to Import or Download (to import into another instance of TERMINALFOUR):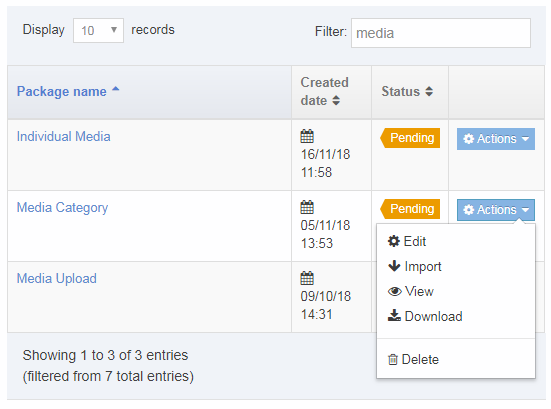 Import a Media Category Package
On the Packages listing, select Import from the Actions menu: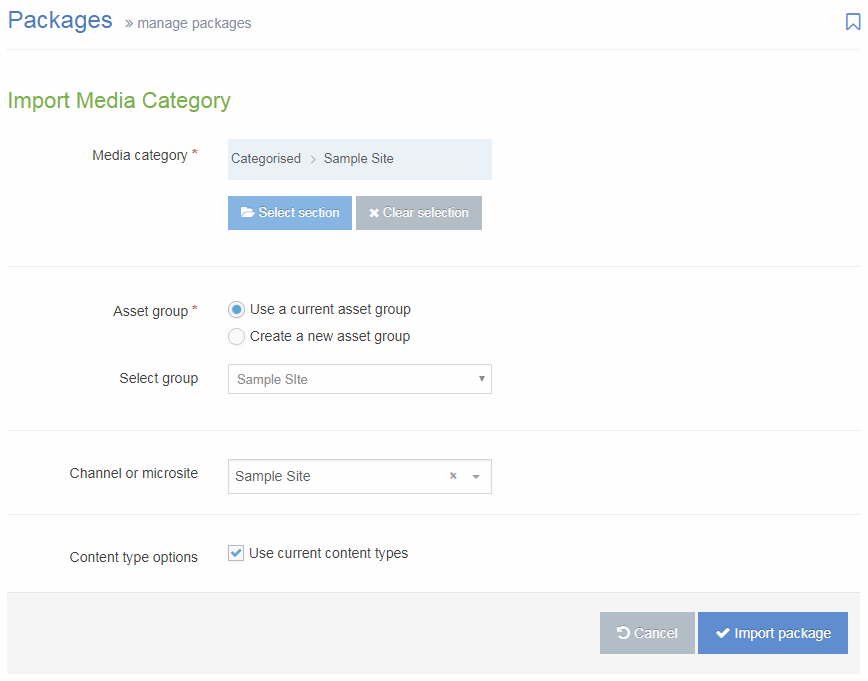 | Item | Description |
| --- | --- |
| Media category | Select the Media Category into which the Media will be imported. |
| Asset group | Select Use a current asset group and select any group. Since the only asset is the Media Content Type, the group will not be used for any assets. |
| Channel or microsite | Can be left blank. |
| Content type options | Check the option to Use current content types to re-use the existing Media Content Type. |
Select Import Package. Once imported, select All Packages and the Package will now have a status of "Imported".
Navigate to the Media Library to see the imported Media Categories and Items.