Media Library
Last Modified:

11 Dec 2018

User Level:
Description
Unless you have been granted read/write access rights to the Media Library – your access is "read-only".
The Media Library is the home to the media files you will be using in your site(s). Media files are defined as:
images
text documents (e.g. JavaScript, CSS)
PDF files
audio
video
By default, any user can access these files to use them in content, but only Administrators or users who have been granted access can add and modify files in the Media Library. Read access can also be removed for particular Media Categories.
All content in the Media Library uses a System Type referred to as a Media Content Type. This is the only Content Type associated with the Media Library. The Media Library can be accessed from many parts of the system, including directly from the content if you have a Media or HTML element.
Power Users and Administrators also have direct access to the Media Library from most assets. The Media Library can also be accessed as a stand-alone item from the Content menu.
‌The Media Library is categorized to help you organize your media items. No default categories are defined, and the examples used here are for instructional use only.
Using the Media Library
To access the Media Library, go to Content > Media library. This screen appears:
With a new installation, the list is empty but as you add more items to the Media Library, the list will grow.
Media Library Controls
The Media Library controls let you add, move, delete and retrieve media items.
Search: To locate media items, enter the media item name or the keywords associated with it in the Search box and click Search.
Jump: Each media item has a unique ID number associated with it. If you have the ID for the media item, enter it into the Jump box and select Jump.
Bulk actions: Delete or move multiple files to a different Category. You must select two or more items' checkboxes to use the Bulk actions.
Add Media: Create new media within the currently selected Category.
Media Categories
Categories help you keep stay organized. When you add a new item to the Media Library you can choose to add it to a new or existing Category folder. Categories are arranged in a hierarchical folder structure so you can place Child Categories inside parent Category folders. It's worth taking time to plan the Categories and Chid Categories organisation that would work best for your organization.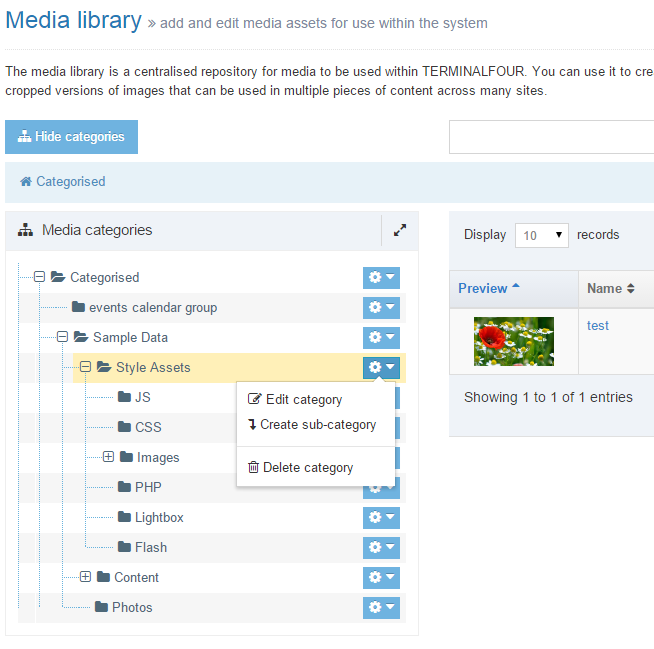 It is possible to:
Expand and collapse Categories using the + and - buttons to the left of a parent Category. Categories can expand to full page size.
Media Files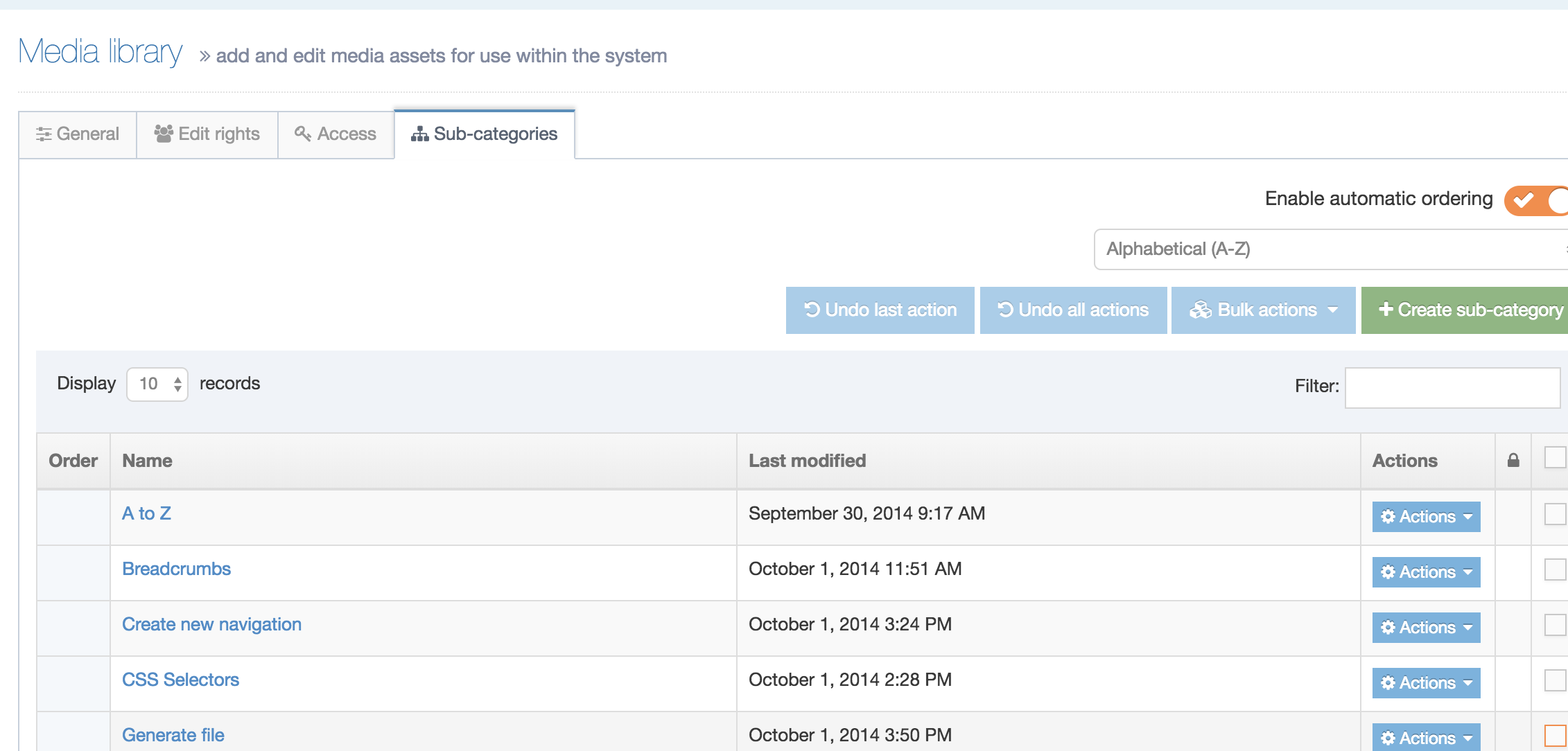 Select Add Media to add a new media item, or use the Actions menu to Edit, Move, Variants, Download or Delete.